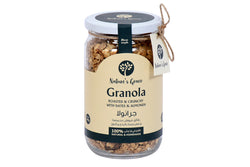 natures-graceeg
Granola Dates & Almonds ( 340 GM )
Nature's Grace roasted and crunchy granola, full of dates and almonds, is here to offer you healthier option for your everyday breakfast, snack, dessert, smoothie, and late-night craving!

Mix it with yogurt, bake it in pancakes, add it to your favorite fruits and nuts, add it to salads, to your smoothies, soften it up with your favorite milk or eat it from the jar for a quick snack.
No preservatives.
100% natural & homemade.
No sugar.
High in fibers.
Full of nutrients.